There is always room for self-improvement... Just a collection of my thought about life, business, love and happiness.
Did u ask yourself one day what is the definition of your own success? Everyone of us has its own success dimension. Some other may think "Ah basta magkaroon lang ako ng bahay at lupa at magandang kotse, yong na yong success ko!" Some will rather say, "Basta mapag-aral ko lng yong anak ko, ok na yon!". Here's one good definition of success, It is when you find yourself in need of serving another person's need. It is sometimes acceptance of the past. That past is no longer the place we are looking for, it is simply the place where we learned it from.
WHAT IS SUCCESS? (from success story at yahoogroups)
Articles and quotations about success and what it means.
(1) "The Little Oxford Dictionary"
success n. favourable outcome; attainment of object or wealth or fame etc; person or thing that succeeds or is successful.
(2) What is Success?
Success is what happens to us when we learn from failure and keep trying.
- by Derek L Daniell
(3) What is success? I think it is a mixture of having a flair for the thing that you are doing; knowing that it is not enough, that you have got to have hard work and a certain sense of purpose."
- Margaret Thatcher
(4) What is Success? by Derek L Daniell
What is success? To live according to God's commandments, which are always for our good, Deut 6:24-25. Many people leave God out of their lives in the mistaken idea that his commandments are burdensome, which they are not. To overcome the world, to be victorious, to be successful is to place our faith in Jesus the Son of God, 1 John 5:3-5. The choice is yours and yours alone.
(5) "Success is not the key to happiness. Happiness is the key to success. If you love what you are doing, you will be successful."
- Albert Schweitzer
(6) "To follow without halt, one aim; there is the secret of success. And success? What is it? I do not find it in the applause of the theater; it lies rather in the satisfaction of accomplishment."
- Anna Pavlova
(7) What is Success? by Leonard RoosSuccess means different things to different people. "Success is peace of mind which is a direct result of self-satisfaction in knowing that you did your best to become the best you are capable of becoming."
(8) "The secret of success is constancy to purpose."
- Benjamin Disraeli
(9) What Is Success? by Ralph Waldo Emerson
To laugh often and much;
To win the respect of intelligent people and the affection of children;
To earn the approbation of honest critics and endure the betrayal of false friends;
To appreciate beauty;
To find the best in others;
To give of one's self;
To leave the world a bit better, whether by a healthy child, a garden patch, or a redeemed social condition;
To have played and laughed with enthusiasm and sung with exultation; To know even one life has breathed easier because you have lived
- This is to have succeeded.
How about you? What is the meaning of your SUCCESS?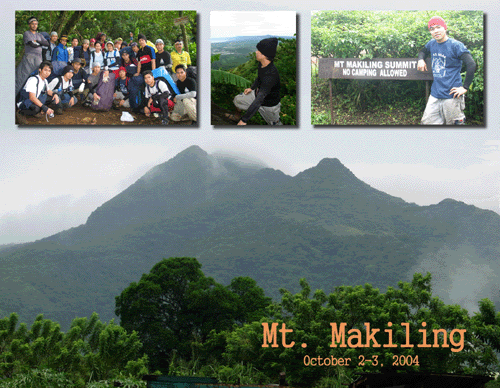 Mt. Makiling Traverse Trek (From Sto. Tomas, Batangas to Los Baños, Laguna)